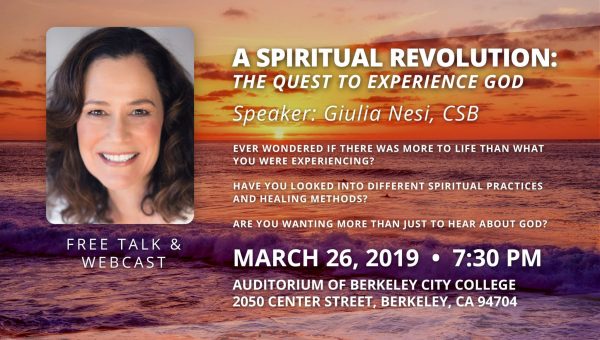 Ever wondered if there was more to life than what you were experiencing?
Are you wanting more than just to hear about God?
The Healing 101 Series is hosting a free online webcast by Giulia Nesi, CSB — from Fairfield, Connecticut on March 26, 2019 at 7:30pm (Pacific Standard Time). Register for this free live webcast by clicking here.
Giulia has spent her entire career in the healthcare field. She is a practitioner and teacher of Christian Science and former psychotherapist. In her talk, she will explain how experiencing God brings healing to our lives and is possible for anyone, anytime, anywhere. Giulia enjoys talking with people about their spiritual journey and sharing the profound insights contained in Science and Health with Key to the Scriptures by Mary Baker Eddy. She's been on the faculty of Harvard Medical School's symposium Spirituality & Healing in Medicine, managed a special project established to respond to the growing interest from healthcare professionals in Christian Science, and has lectured widely to both professional healthcare audiences and the general public.
For more information regarding the free Healing 101 series, click here.